Things to Include in Your Wedding Website
Wedding websites provide great convenience to couples who are planning their special day. They make it easier to keep guests informed on the details of the big event. When creating a wedding website, there are certain elements to consider including when organizing the website. These elements include the couple's story, wedding party members, timelines and events, wedding registry, accommodation details, and a contact page.
Pregled sadržaja: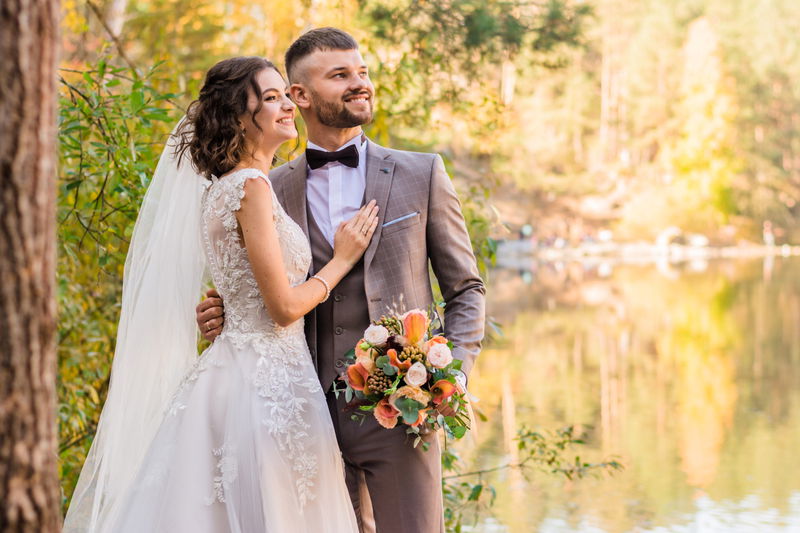 The Story of the Couple
A wedding website is the perfect place to tell the story of the engaged couple. Listing out how they met, funny stories, and why they decided to get married can all be included. For added effect, photos of the couple throughout their relationship can be included as well. Couple's stories can be written so that it is both fun and romantic to read. Be sure to include the proposals and funny mishaps that the couple may have had. Incorporating jokes and anecdotes from their relationship will add an extra dash of personality.

If the couple is especially creative, a timeline of events can be added. This section can incorporate not only the proposal but also other milestones like first dates, long distance periods, and even when they first said they love eachother. Feel free to get creative with this section as it's sure to be an interesting read for the wedding guests.
Trebate li web stranicu?
Želite izraditi web stranicu, ali ne znate odakle početi? Naš alat za izradu web stranica savršeno je rješenje. Jednostavan za korištenje i s mogućnošću prilagodbe kako bi odgovarao vašim poslovnim potrebama, možete imati profesionalnu web stranicu u tren oka.
Wedding Party Members
When creating your wedding website, a great item to include is a list of your wedding party members. This can be an excellent way to introduce the wedding party to guests who may not know them. You can include photos, and even a small bio for each member to give your guests a glimpse into the wedding party. Similarly, you can include a list and photo of the groomsmen and bridesmaids if you wish.

Making sure to properly recognize the special individuals that are celebrating with you on your wedding day is a nice touch for your guests. By introducing them on your website, it adds a personal touch that many of your guests will appreciate. Sometimes wedding websites can get lost in the shuffle of planning, but this is an important item to consider as you build yours.
Timelines and Events
Creating a timeline and listing important events is one of the most important things you should include in your wedding website. Guests need to know when the ceremony is, who the wedding party is, and when the reception is so they can plan ahead and be on time. If your reception and ceremony are at two different venues, include specific directions, parking information, and maps.

Also make sure to note what time the reception and cocktail hour will end, since this can be different from your start time. Don't forget to include the time of the rehearsal dinner, as well as any other events associated with the wedding, such as engagement parties, and post-wedding brunches. Finally, provide important contacts, such as your florist, caterer, and wedding planner.
Wedding Gift List
A wedding gift list is a great way to ensure that your guests know what items you would like to receive as gifts on your special day. By providing a registry, your guests will be able to choose items that fit your style and budget.

There are many online wedding registries available that allow you to add items from a variety of stores. By letting your guests know which store or brand you prefer, they can easily browse and select the perfect gift for you. Be sure to include a link to your registry on your wedding website.

If you have already requested some items for your wedding registry, make sure to let your guests know what has already been purchased. This helps make sure that no one brings a duplicate gift.

Finally, remember to thank your guests for their gifts! A simple thank you note is the perfect way to express your gratitude.
Accommodation Details
Accommodation Details: Let your guests know where they'll be staying! You can include information on nearby hotels, B&Bs, or vacation rentals. You can even get creative and list unique options like Airbnb. You can also provide helpful resources like links to Yelp reviews, booking sites, and even directions from public transportation options. Make reservations simpler for your guests by including a contact person for more detailed tourism advice.
A contact page
A contact page is one of the most important features to include on your wedding website. This page should include contact information for both yourself and your partner, as well as any other relevant family members or wedding vendors. Be sure to include contact phone numbers, email addresses, and any other useful information related to your wedding day. Additionally, it is a good idea to list out the hashtag associated with your wedding, so guests can easily find and share content related to the special day.
Photo Gallery
Photo galleries are an important part of any wedding website. Couples can use the photo galleries to showcase their best moments during the wedding, engagement and leading up to the big day. Photos help capture the emotions and memories of the day, which is why it is important to show them off on a website.

An easy way to create a photo gallery is to use photo-sharing sites like Flickr, Pixpa and Pixieset. These sites allow for the photos to be shared easily with guests and also provide customizable albums. Couples can also use the images to create slideshows, magnets and other personalized gifts for friends and family.

When deciding on photos to add to the gallery, couples can try to include candid shots as well as posed photos to capture joyous moments that happened within their circle.

Photo galleries can make a wedding website truly special and personal, and will help create lasting memories for the couple and their guests.
RSVP
The RSVP is one of the most important things to include in your wedding website. Be sure to include an RSVP link, so guests can indicate the number of people attending and confirm their attendance. Make sure the RSVP deadline is clearly stated and that your new family and friends have plenty of notice. Ask guests to provide dietary requirements and any other information you might need to plan your day. Ensure that no one is left off the guest list by giving guests an opportunity to add their name if they think they've been forgotten.
Sažetak
When creating a wedding website, there are certain elements to include when organizing the website. Couples should include their story, wedding party members, timelines and events, wedding registry, accommodation details and a contact page. They should also consider adding a photo gallery and RSVP capabilities to ensure guests will have all the information they need.